Flutter is Google's brainchild and the sole reason why the tech giant thought of bringing it in was the codebase with a similar interface that Android and Apple's operating system (iOS) share. With a massive figure of 2.87 million apps available to download only on the Google Play Store, the total revenue from mobile applications, according to Statista, would touch a whopping USD 935 billion by 2023. And, all these numbers are growing every minute! Hence, there is no exaggeration in saying that the future of Flutter is glorious in 2022 and beyond.
What is Flutter? A unique definition
Flutter is Google's pet, developers' darling, and user's budget savior. But, if you go by books, Flutter is Google's very own open-source user interface toolkit that helps programmers build multiplatform mobile applications using a single codebase. Since its recent inception, the technology has skyrocketed in its popularity and the regular updates make it even dearer to all the fraternity.
Flutter facilitates ambient computing and, therefore, the technology is wholeheartedly accepted and loved by not just computer engineers but also buyers who outsource IT projects to offshore mobile app development companies worldwide. The awareness of Flutter has successfully reached every concerned ear, and as a result, the technology has found its way to a bright future. For a hassle-free customized digital product to automate internal and external business operations, hire remote Flutter app developers from an offshore IT company that not only saves you a great sum of money but also offers you unparalleled after-sales support.
Flutter rises in popularity
The future of any technology depends on its popularity and usability. Flutter development is not a new thing; it has shown its potential right from its infancy. Because its parent is Google, the baby has grown rapidly and is beating almost all other peers with ease.
According to Lionel SV, Flutter is the most popular cross-platform mobile app framework used by the global developer as derived from data of 2021. Nearly one-third of total mobile app developers opt for a cross-platform technology or framework and the others choose the native development.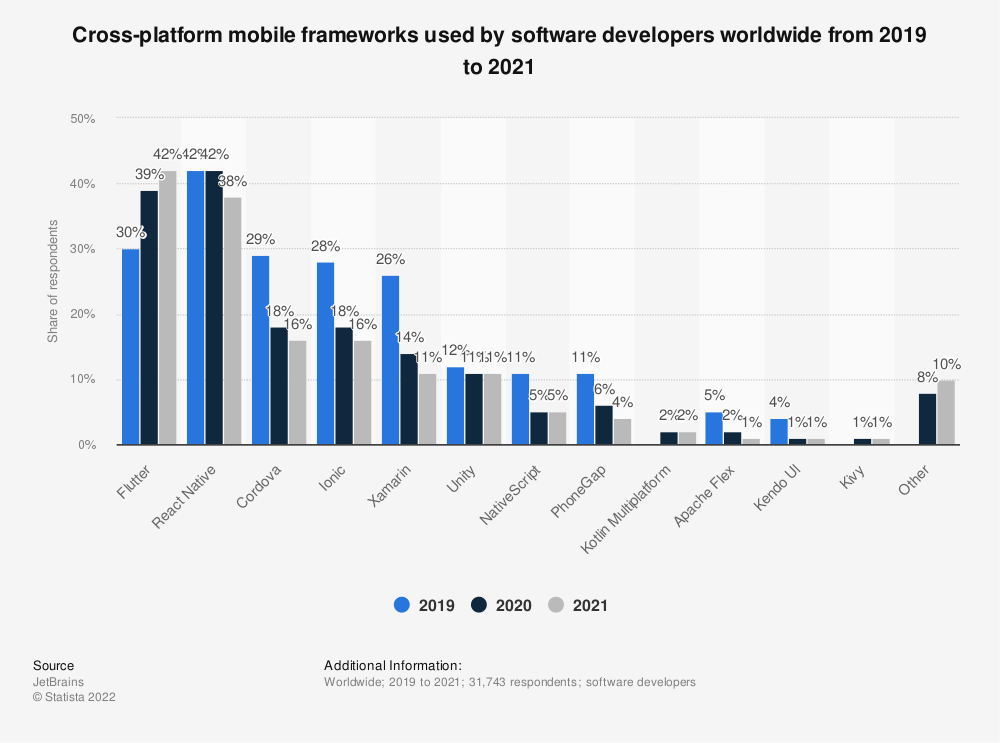 . Source: Statista
Google keeps Flutter advance by maintaining required updates. In other words, the tech giant assures that Flutter is up till date to enhance its quality and productivity. Especially with the launch of Flutter 2.0 and beyond, the technology has surpassed many other platforms/frameworks in its popularity and usage because the latest add-ons expanded Flutter's capability from just being a mobile development kit for Android and iOS to an efficient tool to develop user-friendly apps that go smooth on web and browsers for Windows, macOS, and Linux. For a businessperson, this feature broke all the boundaries and limitations of technologies that they used for their business automation.
What makes Flutter app development capture the present market?
The issue app developers faced once was the changes they made to their coding and its reflection. In other words, it was difficult to check the changes they made in their coding or computer programming as the output was difficult to view immediately. Well, not anymore with Flutter. Here are the top reasons that make Flutter the best for app development. In other words, it proves that Flutter is a wonderful framework to stay ahead of other technologies.
Hot Reload feature
One of the reasons for the Flutter app development popularity is the Hot Reload feature which allows app programmers and designers to view the changes as they happen (just in time). Unlike React Native, Flutter offers widget-based user interface design and therefore there is a chance that Flutter programmers build cross-platform apps faster than ever.
Impressive user interface for the best user experience
User Interface (UI) in Flutter is enhanced through its awesome widgets -the developers can find a couple of sets for readymade widgets in alignment with native-like design for iOS and Android. Flutter widgets are carefully crafted to meet the standards of Cupertino (Apple's designing language) and material (Android design language) to offer a mind-boggling UI rendering unparalleled UX. In addition, the Flutter widgets can refine each structural element such as a slider menu to give a unique experience to a viewer.

Single codebase
Most app developers consider Flutter as their primary choice for software tool development because there is a single codebase that works smoothly on many platforms. It drastically reduces the overall time to build a software product. In addition, Futter app development is also prone to fewer or no errors which ultimately saves a large chunk of money and an enormous amount of time for both developers and buyers.
Native-like performance
Though it falls under cross-platform development, Flutter is one of the technologies that wonder developers and buyers with its outcome which is native-like performance. The final product is awesome and aligned with the predefined objectives of a particular business or industry. Some app developers opine that no other tool performs as efficiently as Flutter to make the output look like native coding.
Quick testing
One of the major concerns of mobile app developers is to test their applications in the shortest possible time or duration. It is not uncommon to spend hours parsing and testing the code and finding bugs. For the optimum level of performance (quality assurance), the testing of the application should be quicker because if they find any impediments in the functionalities of the product, they can fix them earliest. There are no two separate codebases in Flutter and hence, the testing happens quite quickly on both the platforms.
The future of Flutter -it's glorious and promising
Every single day, the number of mobile applications based on Flutter grows like never before. It may surprise you that Google itself uses Flutter for its Google Ads and Google Assistance because the technology offers quick reload and is simple to use. There are a few more giants who bank on Flutter and hence, the Flutter app development future is said to be promising.
Trusted by giants
Groupon marketplace: One of the most renowned discount marketplaces o the Internet is Groupon which always sought to build an enticing UI to simplify its operations and coupon redemption. Adding the Flutter widget to the native code fastened the development time and the marketplace earned much appreciation from its users.
Alibaba eCommerce: The second biggest online shopping platform, Xianyu, has been powered by Flutter cross-platform app development. Due to its awesome usability and unparalleled shopping experience, the platform witnessed more than 50 million downloads.
Realtor.com real estate: Americans rely much on realtor.com for their home searches. The framework of Flutter had been integrated into the company's both platforms iOS and Android. As a result of that Realtor saw a marked improvement in engaging users and conversion ratio.
A few more to add to Flutter's bucket are Hamilton, Watermaniac, PostMuse, and SpaceX Go.
Terrific community support
Just like any cross-platform app development future, Flutter grows every hour, every day! The backbone of any technology is the support it gets from domain experts and Flutter is lucky to have it. Hundreds and thousands of Flutter app developers from all over the world have built a powerful community that is active 24/7 and, therefore, their fellow programmers never find any hassle to overcome any issue. Any bug or problem in code shall be put out to the community and it is solved in no time.
The community also discusses the future of Flutter and how to make it omnipotent. The newer features and discussed and should anyone have any problem in understanding the framework, the Flutter experts are readily available to help the novices.
Highly useful tools
On the market, you find awesome different Flutter app development tools that help developers build fantastic digital products that not only help businesses to automate their internal and external functions but also provide an unparalleled experience to their users and stakeholders. Here are a few tools that make the framework like no other –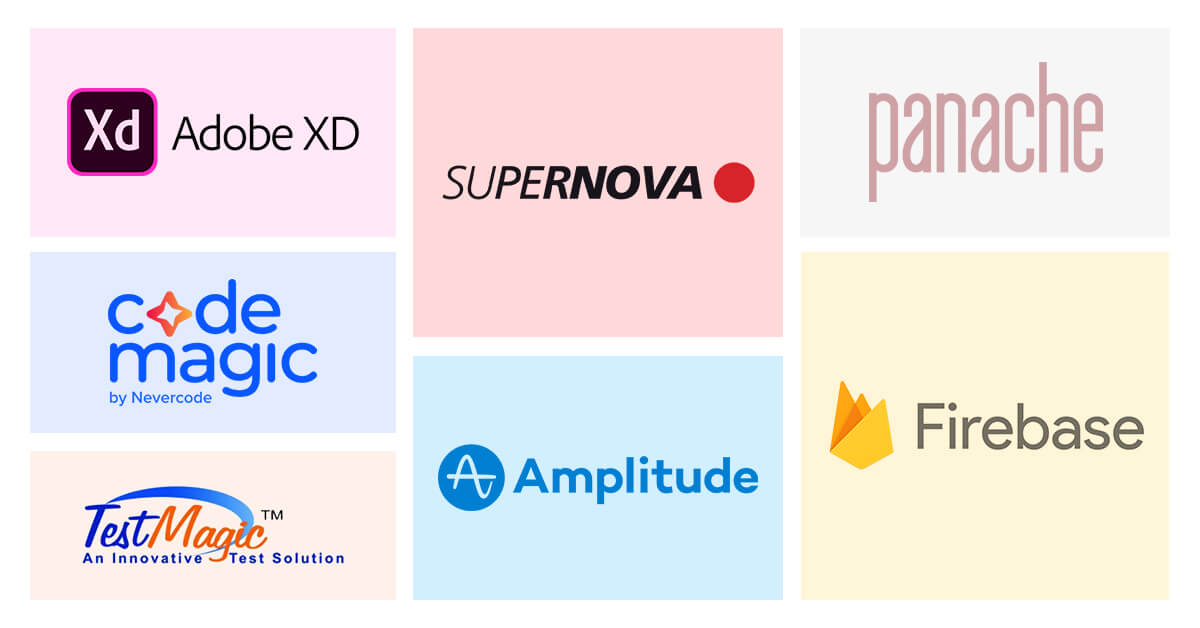 Regular Flutter updates
The updates for Flutter are quite regular and that keeps the framework up and running even in the toughest competition. For instance, Flutter 2021 updates included its web support which went from beta to stable channel. Flutter 2.0 opened up enormous opportunities to web developers all around the world. Google also offered CanvasKit which added more aesthetics to graphical web apps such as 2D and 3D layouts.
The updates also include praiseworthy efforts from Flutter developers to make the framework more adaptive and scalable. With constant evolution and innovation in screen sizes, and operating system features, Google has been offering great value to its Flutter platform wherein the tool renders unique yet similar experiences to the users on different sizes of screens. Flutter app development looks and works smoothly irrespective of platform-specific functionalities.
With regular feature updates, the developers also take care of debugging and reducing escalations and errors in Flutter. Null Safety is one such update that helps developers clear the entire group of bugs in a jiffy. The best part of Null Safety is the errors are taken care of during the development itself and not during the run time. Overall, such a marvelous step helps Flutter app developers build faster products with the least or no bugs.
Finally, the monetization features of Flutter make the framework rule the present coding world and also sustain in the future without any problem. Google Ads SDK has been an apple of everybody's eye and with newer addition of commercial payments through various secure gateways and plugins has put the framework in front and will remain.
What secures the future of Flutter in 2022 and beyond?
Unlike other platforms and frameworks, Flutter is here to stay and there are concrete shreds of evidence to back it! Mobile app developers and tech giants believe that Flutter will remain a torchbearer because of powerful community support and brilliant developers who are always there to help the technology grow. Here are a few factors that tech experts think will have a powerful influence in brightening the future of Flutter in 2022, and beyond.
Fuchsia OS compatibility: The future is Fuchsia, a capability-focused OS by Google. This technology is likely to supplant Android. Though Flutter isn't directly influencing Fuchsia, its features are definitely the references for the new baby, such as Now Feed of Fuchsia asks for a custom widget making, the character of Flutter.
Dart support: Dart language can help develop a customized Flutter mobile app. With the best documentation, it offers consistency due to which even non-experienced developers in the future will have easy-going on Flutter.
Quicker programming: In the future, only the products that take less time to build and quick time to perform shall win the race. Flutter framework is one of the fastest cross-platform developing tools that test the product very quickly and renders its performance in no time. With a guarantee of smooth functioning and flawless performance on both operating systems iOS and Android, the future of Flutter in 2022 and beyond is brighter, undoubtedly.
User-specific UI: Flutter sheerly focuses on the best user experience and nothing else. Due to its scalability and flexibility in building its own components, Flutter's every widget gives realistic flair to both the operating systems iOS and Android. The custom widgets make the platform even mightier than other frameworks available.
Backed by the giant: While the framework has already mammoth community support, its creator, Google, has all potential to carry this product on the top. Google has the capability to convince developers with its products and simple tutorials. The giant puts billions of dollars into UI/UX research and the outcome of such research is fairly divided into its products including Flutter. What makes it even sure is Google's own products that use Flutter as mentioned earlier in this guide.
Finally, the future is Flutter
It is beyond question that Flutter's future is brighter because hundreds of thousands of developers across the world learn Dart, and study the Flutter app development guide. Multinational companies and giants don't hesitate to use Flutter because Google itself uses it. Even further, with the inception of the Fuchsia operating system, Flutter shall become almost mandatory for everyone, especially Android developers to survive. For any entrepreneur with farsightedness, developing mobile applications on Flutter is the best bet.